Swimming with dolphins in Mexico
Swimming with dolphins is a memorable, captivating and inspirational activity. When you interact with the charming marine mammals you can appreciate a mutual bond and enjoy the enthralling encounter.
Dolphins are very intelligent and it's only by getting close to them that you begin to realise and appreciate just how smart they really are. There are a variety of picturesque settings where you can experience the sensation of swimming with dolphins in Mexico.

Observing the interactive behaviour patterns and the exploration orientated playful nature of the dolphins is a fascinating and eye-opening experience.

The sensation itself is hard to describe, but overall you just gain a serene sense of perspective by spending time with these amazing mammals.

The chance to observe, snorkel and swim alongside the mammals is an ambition for many people, something that they have always wanted to do. On your vacation to Riviera Maya those dreams can become a reality. My wife is one of those people that had always dreamed of interacting with dolphins.

If I'm honest, I thought it would be an exciting fun thing to to do, but it was not really one of my top priorities. As it turned out though, after experiencing our own fantastic dolphin encounter (as usual) she was right and I was wrong.

Our Dolphin Encounter Experience
On our first trip to experience swimming with dolphins, we booked a coach trip to the Xcaret Ecological Park where the activity was based.
We were staying in one of the Riviera Maya Hotels in Akumal, so we decided to go to the closest place to our resort. I didn't want to leave the beautiful beaches behind for too long.
Before we stepped in to the water we had an interesting briefing and we were split into groups of six. The staff seemed very well qualified and made the experience very enjoyable. Once we were in the water the dolphins seemed genuinely happy to see us.
The size of the group was just right and we all enjoyed various activities. The activities ranged from the dolphin kiss to the legendary dolphin foot push.
For the foot push you have to keep very still and float, whilst two dolphins swim simultaneously under you and push you up from your feet. My feet were flapping around everywhere but they still managed to lift me (see what I mean about them being intelligent).
Dolphin Behaviour Patterns
Dolphins have captivated the attention and emotions of people for a very long time. Swimming with dolphins is the type of event that is regularly featured in an array of popular surveys and bucket lists (ie. things to do before you die).
Over the years, marine research studies and detailed television documentaries have featured intricate analysis of common characteristics and behavioural habits that are shared amongst dolphins. Their unique acoustic range and social nature seems to really resonate and connect with our own sense of understanding and emotion.
There are over thirty different species of dolphins throughout the world, including the Common Dolphin, Dusky Dolphin, Atlantic Spotted Dolphin, Bottlenose Dolphin, the Black dolphin and the Killer Whale.
Dolphins are usually referred to as an intelligent species. When you spend time in their presence, it is common for many people to experience a slight inferiority complex and begin to question exactly which one of you is actually more intelligent.
Throughout history, the intelligent behaviour patterns of the marine mammals has been used (or exploited, depending on your point of view) in military situations and training exercise regimes.
Dolphins can face natural, environmental and man made threats within their natural habitats. In certain parts of the world, dolphins face the threat of entanglement in the nets of a regular influx of fishing vessels.
Where can you Swim with Dolphins?
If you get the chance to experience swimming with dolphins you should definitely take the opportunity.
There are centres throughout the Mayan Riviera in popular locations like Puerto Aventuras and Playa del Carmen. You could also travel to Cancun or the island of Cozumel. If you are planning to travel further afield in Mexico, then you can also enjoy the experience in Cabo San Lucas and Puerto Vallarta.
There are a range of options when it comes to booking your perfect interaction excursion. For example you may enjoy the option of a combined tour where you can swim with dolphins and interact with manatees in the same day.
If you would like to book your own encounter, I have setup the following links for your convenience, they include a range of competitively priced deals;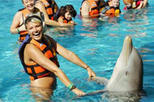 Royal Dolphin Swim - $134.99
This trip offers visitors the chance to get to know the dolphins in a relaxing setting in Puerto Aventuras. After a briefing you will get the chance to swim and interact before preparing for the dolphin foot push.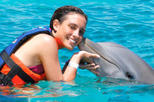 Dolphin Swim Adventure - $108.99
During this tour, you can swim, interact and snorkel with the captivating marine mammals in Riviera Maya. Witness the playful behaviour patterns of the dolphins as you engage in a variety of shared experiences.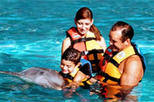 Swimming with Dolphins Program - $78.99
This alternative trip is an ideal option for families with children of all ages. If you have young children and you would like them to experience the sensation of interacting with dolphins, then they can do so in this safe and friendly environment.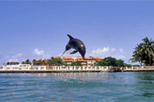 Sea Life Discovery - $168.99
The Sea Life Discovery program offers a fantastic opportunity to learn about the behaviour of Manatees, Dolphins and Sea Lions and see how they are cared for. After this, you can embrace the dolphins as you interact and swim alongside them.
---
Compare reviews
for dolphin experience trips
.
---
Return to Riviera Maya Holidays
---