Swim with Manatees
There are a few locations in Mexico where you can swim with manatees and learn about their fascinating behaviour and habitat.

The encounter experience will normally include the opportunity to feed, stroke and hug the captivating mammals.
Manatees can be found in the shallow areas of the Caribbean Sea. They grow up to 3.5 meters in length and can live for over 50 years.

The mammals are generally quite placid and spend large sections of their day eating the vegetation or sleeping beneath the surface of the water. They are gentle creatures but also fairly intelligent. It is thought that they have very little vision but can see variations of colours and patterns in the water.

Manatees are generally very affectionate, they share a range of similar behaviour patterns and characteristics that are often associated with your average pet dog.

Interacting with the Mammals

If you plan to swim with manatees, remember to wear biodegradable sun lotion rather than the regular type. Wearing biodegradable sun tan lotion will protect the mammals and preserve their habitat.

An average time in the water during the encounter can range from around
40 minutes to an hour, and as you encounter the mammals there are photographers on hand to capture the key moments.

The experience is normally based on a small group of people, going in to the water with a trainer and around two to three manatees. You get the feeling that the mammals are genuinely happy and enjoy the encounter just as much as you, the trainers are also very friendly and welcoming. Afterwards you will have the option to purchase photographs or even a DVD with video footage of your memorable day.

Discover Manatees in the Mayan Riviera
In the following trip, you can enjoy the opportunity to interact with manatees, experience swimming with dolphins and discover interesting facts about sea lions all in the same day.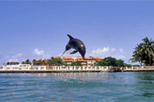 Sea Life Discovery Program
The Sea Life discovery excursion is based in the heart of Puerto Aventuras.
Visiting and interacting with the dolphins, manatees and sea lions is a magical experience, it's definitely a day that you will never forget!

The Sea Lions are highly intelligent and eagerly happy to entertain you with their tricks and techniques. You will get the opportunity to feed and interact with them.

The trainer will teach you about the diet and habitat of the mammals. You may also learn about the increasing threats that they sustain form various predators and environmental factors. One of the biggest dangers to their survival however, is from humans and from human behaviour. It is important that we take care and continue to be aware of the precious environment when exploring the natural habitat of the mammals.
---
Return to My Top Ten Mexico Attractions
Return to Mexico Beaches
Return to Riviera Maya Home Page
---