Parasailing in Mexico
Parasailing in Mexico could be described as an adventurous and high-adrenaline fuelled activity. The exciting water sports attraction offers fantastic views of the Caribbean Sea.
During the process, you are attached to a parasail (basically a special parachute) and then towed behind a speed boat, from there you can get up really high to discover spectacular coastline views.
Parasailing is not an activity for everyone however. If you plan to attempt it, you should do so with extreme caution, always insist on a full and detailed safety briefing before setting off. If you are not happy with the safety precaution explanations, then do not go ahead with the experience.
To be honest, I have not yet plucked up the courage to try out the activity but I have received a wide range of great reviews and recommendations from experienced parasail enthusiasts.
There are a variety of areas throughout the coastal locations of Cancun and the Mayan Riviera where you can experience the activity.
You can parasail individually or with one or two other people. You can try to lean and steer the parachute, but realistically there is only a limited amount of control that can be achieved
The History of Parascending
Parasailing is also often referred to by the alternative name of parascending. The activity can be practiced on land as well as over water.
It is thought that the sport was first devised in 1961 by a parachute developer called Pierre-Marcel Lemoigne. The parasails would have been initially towed on land by cars and tractors.
In the 1970's it became more common for parasails to be towed high above the water.
During this period, the inventor, Brian Gaskin designed a unique version of the parasail which he named the "Waterbird".
The technology and development of the sails has advanced considerably since these early incarnations.
Land based parascending is still very popular and is considered to be a sport with frequent worldwide competitions taking place. The most common users of the parasail today though, is by tourists and holiday makers staying in beach resorts around the world.
Although there are many places where you can experience the activity, the reason that parasailing in Mexico is so special is because of the spectacular coastline views on offer.
Enjoying the Experience
Once the speed boat reaches full speed you could find yourself over 550 feet high, looking down at the sunbathers below.
With this in mind, if you have a problem with heights you should probably watch from the sidelines, once you're up, there is no turning back.
However if you have experienced parascending before and are looking for a break from sunbathing on the beautiful Mexico beaches then the experience could be ideal.
You might also be a naturally adventurous person, looking for your next fun fueled adrenaline rush, or if you're the type of person that loves extreme theme park roller coasters then this experience should not be missed.
Be sure to look out for your friends on the beaches and look out for jet-skiers and speedboats below. Glance out at the horizon and see if you can spot a catamaran sail boat or even a cruise ship in the distance.
If you're interested in pre-booking this activity for your future vacation plans, then you can do so with the following package deal;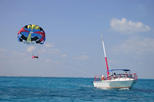 Cancun Parasail Adventure - $54.99
This adventures activity takes you on a memorable journey with unparalleled views over the coast of Cancun and the island of Isla Mujeres. You can share the experience with a friend and choose one of the options of either an ocean or lagoon focussed flight.
---
Return to Mexico Beaches

Return to Things to do in Mexico

Return to Riviera Maya Holidays
---