The Coco Bongo Club
The Coco Bongo Club could be described as a combination between
a traditional nightclub, a rock concert and an acrobatic circus show.
It sounds confusing I know and on paper it probably shouldn't work, but somehow it just does. The nightclub is all inclusive, so after your admission price you can enjoy drinks from the bar all night. There is a VIP area which is less crowded and offers a good view of the show.
If you plan to get a table or stand in the same place it is well worth tipping the waiter when they first offer to take your order, this way they will keep coming back to you again and again. Tipping is a customary activity in Mexico and is usually greatly appreciated by the staff.
The Coco Bongo Club is a popular venue for a range of different people, the varied musical genres will appeal to the tastes of many different age groups. The club can get very busy at times, this is especially evident during the peak months of the spring break season.
So if you're planning a night out on your upcoming Mexican vacation then the Coco Bongo Club is definitely the place to go.
Performances on the night can vary, one minute you could be watching live performances and star impersonators the next you could witness popular comic characters performing acrobatics above the crowd. It is quite a surreal experience but as I mentioned earlier somehow it just seems to work.
The way that the DJ fades out the music to lead straight into a live performance is really impressive. The club can get crowded but then that's probably a good sign because it shows how popular it is. If you enjoy nightlife and like to have a good time then this is definitely one of the attractions that you will not want to miss!
Nightlife Attractions in Mexico
You can visit different versions of the Coco Bongo Club in both Cancun and Playa del Carmen. If you're staying in one of the local resorts in the Mayan Riviera then you could visit either of the two clubs.
A trip to the Playa del Carmen venue is likely to be only a short journey away, or you could take a coach from your hotel to Cancun (where the original club is based). The journey to Cancun usually takes somewhere between 60-90 minutes, but when you arrive the atmosphere and theme of the club makes it all seem worthwhile.
The Coco Bongo Club is a popular venue, but there are also many other nightlife attractions to enjoy in this part of Mexico. There are a wide range
of impressive clubs, bars and restaurants in the surrounding areas to explore.
---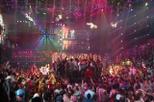 Nightclub Tour in Playa del Carmen - $68.99
Visit three popular local bars and nightclubs throughout the hottest places to be seen in Playa del Carmen. From lively beachside bars to energetic nightspots, enjoy queue jumping priority on this guided tour.

---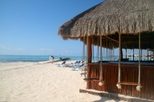 Beach Bar Crawl in Playa del Carmen - $44.99
Experience the best beach bars in the region. Spend some relaxing time under the sun and meet new people in a safe, fun and enjoyable environment!

---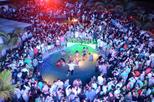 VIP Club Tour in Cancun - $74.99
Enjoy a night out in Cancun at three of the areas most energetic nightclubs! On this 6-hour experience tour, there are many opportunities
for fun, dancing and VIP service. Skip the long queues at each club.

---
---
Return to Top Ten Things to do in Mexico

Return to Mexican Holiday Locations

Return to Riviera Maya Home Page
---