Catamaran Sail Boat Excursion
A catamaran sail boat trip offers a memorable experience to enjoy on your Mexico vacation. There are a variety of charter tours based in the Puerto Aventuras region in the Mayan Riviera.
During your vacation you will no doubt enjoy relaxing on the pristine white sandy beaches. However if you're looking for exciting attractions to drag you away from your comfy sun-lounger, then embarking on an action-packed sailing excursion could be just perfect.
The most popular and reasonably priced option when booking the trip is the organised group tour. This experience is offered on an all inclusive basis and will include stops for swimming and snorkeling. Alternatively, you may prefer to hire your own boat and crew for the day to set sail on the open waters for a private Caribbean Sea adventure.
The Group Tour
A Catamaran sail boat charter can hold around 35 to 40 people.
An average group tour excursion is likely to include mixed age ranges and a mixture of personalities. From my experience though, everyone seems to have a genuinely good time and there is a great atmosphere on board. The tour company will pick you up from your hotel and drive you to your destination, located in Puerto Aventuras for set off.
The staff are generally very helpful and friendly, and as part of the excursion activity, you should receive a full safety briefing before preparations to set sail for the day.
The Catamaran sail boat will usually stop on a couple of occasions allowing everyone the opportunity to snorkel, swim and explore.
This is of course an optional activity (you could stay on board if you wish), but you may enjoy the opportunity to explore the spectacular Belize Barrier Reef and experience snorkeling in the Caribbean. Snorkeling equipment and life jackets should be provided for the trip.
After setting sail again, if you are lucky you may spot some marine life and sea turtles swimming happily alongside the boat. One of the other impressive factors about this Riviera Maya attraction is the all inclusive package, so you can eat and drink to your heart's content.
The Private Charter Trip
A private charter trip offers a luxurious setting for you to enjoy a memorable day on your vacation. This option is good if you want to spend some quality time with your close friends and family. Wedding parties often like to book this excursion, so their guests can experience an enjoyable trip after the big day.
You would generally hire the boat between the time frames of between 2 hours, 4 hours and seven hours. However you can tailor the trip to your own specific needs and requirements.
When you hire the catamaran sail boat you also get the company of the crew for the day. The crew will guide you around the key areas of interest and show you the variety of spectacular views on offer. If you wish to go snorkelling or stop off at certain points, then just let the crew members know and they'll be more than happy to help.
---
If you would like to book the catamaran group tour, then you can do so with the following, special discounted rate;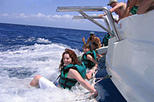 Mayan Riviera Catamaran Trip - $94.99
Enjoy a luxury cruise experience as your catamaran ventures out into the Caribbean Sea. Take the time to top up your tan, snorkel, swim or just relax on board with inclusive food and drinks.
---
---
Return to Mexico Attractions

Return to Riviera Maya Holidays
---